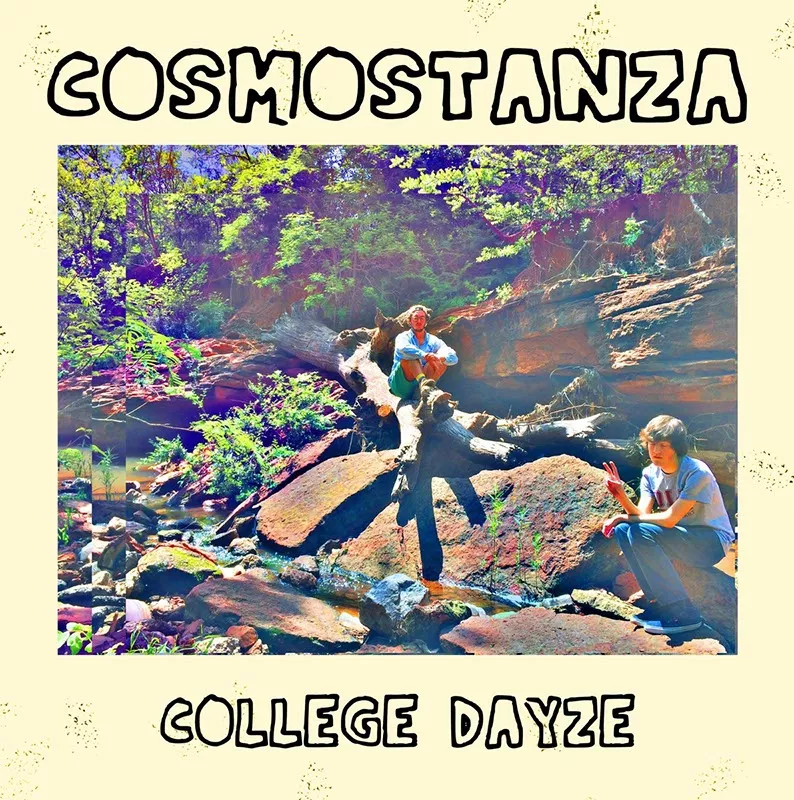 Growing up sucks. Bills, insurance, student loans, taxes — it's inescapable. Youth is fleeting, and responsibilities are oppressing, but at least the boys behind Oklahoma City duo Cosmostanza will have documented the best years of their lives with something much more revealing and immersive than a yearbook: music.
The garage rockers have always made songs inextricably tied to their youth. Video game marathons, house parties, puppy love and pizza buffets fueled, steadied and informed the raw but preposterously precocious tracks found on its first two EPs, 2012's Rad Vibes and last year's CHAMPS.
This was good-time music from two teenagers — singer-guitarist Maxwell Moore and drummer Raney Aboud — who were perfectly happy being teenagers, content to let real-world worries, fears and adversities stay at bay for as long as possible.
With College Dayze, all those things are starting to creep in — to their grievance but to the listener's delight. The EP comes after the pair wraps up its freshman year, and you start to see the Mountain Dew being traded in for coffee and dumb backyard stunts ditched for late-night philosophical conversations. With college comes enlightenment, but most students leave as jaded as they are educated.
"I need to grow up, but I don't really care," Moore hollers in the lead-up to a sharp bridge of blistering riffage and propulsive percussion in "FALL OUT BOYZ." Maybe he really doesn't, but the frustration with which those words sizzle clues in on an outside pressure to toss childish things aside that is getting under his skin.
But if the light of youth is closing in on them, the twosome is prepared to fight tooth and nail for every last second in the sun that it can.
It's in that concerted mix of ire and unbroken spirit that Cosmostanza's darkest but best work succeeds.
Reactionary is one way to put it. That stark jump from the sugary neon buzz of CHAMPS and Rad Vibes stands in stark contrast to the more caustic choke of College Dayze. Not that Cosmostanza has lost itself along the way, growing much in the same way we've seen Cloud Nothings and Wavves develop in the past 24 months.
Post-Nothing-era Japandroids might be the best point of reference, though; "Coyote" in particular is woven to a rocky, "Wet Hair" spindle. Opener "Sunglass Sweat" is a lo-fi, punky opine the same way Cosmo-back-catalog cuts "You Make Things Fun" and "Never Cool" did, but in a way that feels more recollected than presently relevant, an increasingly distant memory.
Even if they are less inwardly concerned with writing party-starting garage anthems, the songs have never been tighter and more effective. "Champion LVL" captures Cosmostanza's boyish rebellion in a cleaner attempt than ever, and the thrashing "FALL OUT BOYZ" is the duo's best singular moment to date.
"Coyote" wraps with a fitting series of cathartic howls from Moore, a signal that Cosmostanza understands it just fought its first meaningful battle of many, eager to stay young or die trying.
Print headline:
Cosmic shift