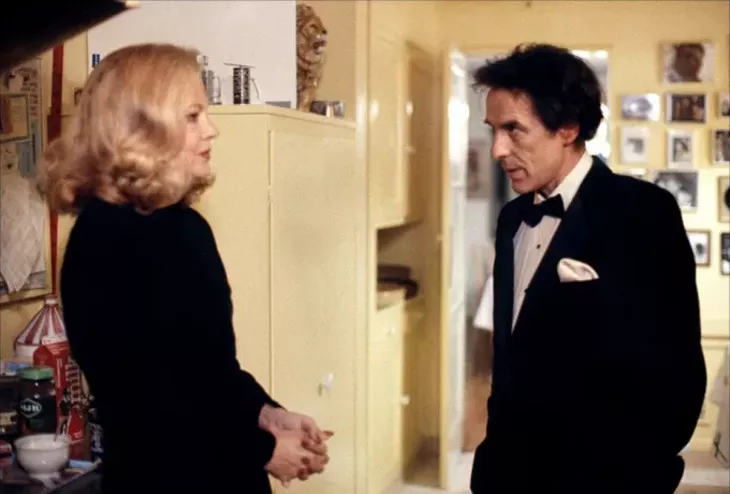 After the left-field success with the studio-backed Gloria, director John Cassavetes took a couple of high-profile acting gigs before getting a terminal diagnosis from his doctor. Given six months to live in 1984, Cassavetes and playwright Ted Allen adapted Allan's stage play Love Streams to the screen by way of Menahem Golan and Yorum Globus's Cannon Films, who would gamble on approximately one art project for every five Chuck Norris movies they cranked out.
Love Streams, newly released on Blu-ray and DVD by Criterion Collection, is a soulful, tragio-joyous amalgamation of Cassavetes' entire universe. Hopes, desires, fears, emotions and situations with which the director's fans have become familiar color the narrative. Characters who could be first cousins to almost every previous Cassavetes character wander through the messy canvas of Love Streams in an almost bottomless search for love and its true meaning. If not for beating his doctor's prognosis and stepping in as a favor to writer-director Andrew Bregman to rescue the not-terrible Big Trouble in 1986, Love Streams would have been his farewell film — as he had intended it to be. Either way, it's a masterpiece and one of his very best.
At first, Love Streams concerns itself with twin narratives. One story features John Cassavetes as Robert Harmon, an aging playboy/writer who seems to wander through life in detached bemusement. Mostly clad in formal wear and oftentimes bloodied and inebriated (usually as the sun is coming up), Robert seems untethered to this world. He barely even seems to live in his own house, as it's packed to the rafters with scantily clad women who line up to allow him to serve them mimosas and record their answers to abstract questions about what makes life tick, only to then be sent off each with a check for their services as research assistants.
The second story involves Gena Rowlands as Sarah Lawson, a woman on the verge of collapse. Sarah, you see, feels things too much. She's not much made for conventional marriage, or really much of anything tangible. In the beginning of the movie, we're forced to endure her divorce proceedings, in which it's difficult to tell if her unusual life-view and philosophy are a result of years of neglect from her husband or if his philandering is due to her unusual life-view and philosophy. After the divorce, she's painfully alone. After a brief misadventure in Europe, she descends on Robert's house, bringing her overflow of love with her and causing their strange bond to reveal itself and also upend each other's lives.
John Cassavetes was very sick when he made Love Streams, and it shows. His face is shockingly thin, his stomach is distended and his hair is a bird's nest with a horrible dye job. Initially, the role was to be Jon Voight's, as he originated it in the play, but he dropped out after creative differences with Cassavetes. I can't imagine this being cast any other way. As Robert Harmon, Cassavetes gives himself the role of a lifetime — the most representative of the Cassavetes Male. Complicated and layered, we understand Harmon in the same way we would as a fascinated onlooker. We're not sure what drives him to be so selfish and shallow, but we're intrigued anyway. He does insanely horrible things that we still seem to forgive due to the skill of Cassavetes as a charmer who knew how to make you realize that the majority of your friends are just as flawed as the characters he wrote and played.
Though his films are infused with a joie de vivre that certainly telegraphs the notion that John Cassavetes marveled at and loved life, it is important to note that Gena Rowlands was his greatest vessel of communicating non-visual ideas and without her, his career would be worth much less. Even in the personal films in which she doesn't appear, one can feel Gena's presence helping steer the humanity in his vision, for there was no better barometer for human empathy than her. In the performances in which she's asked to go through exhaustingly emotional highs and lows, as she does in Love Streams, the control of the character and the emotional shores are kept within her scope. Rare is it that two strong-willed artists can work so well with each other. Rarer still is the long-lasting Hollywood marriage. They were both of these things, and they remain an inspiration for the limitless possibilities when love, trust, respect and empathy drive your creative and personal engine.
The Criterion release of Love Streams is a very long time coming. Previously available in a cut, full-frame VHS from MGM, Criterion serves up a 2k scan that looks crystal clear and sounds as amazing as a Cassavetes movie really ever can. The extras on the disc are many and contain interviews with the usual suspects (producer-cinematographer Al Ruban, actor Seymour Cassell), one surprise (actress Diahnne Abbott) and an absolutely crucial audio essay by critic Sheila O' Malley chronicling the work of Gena Rowlands that is both moving and right on the money. Also included is the fascinating hour-long making-of documentary I'm Almost Not Crazy... which allows us to watch Cassavetes in his natural habitat. Unguarded and unglamorous (he looks physically uncomfortable half the time), it's as good a peek into the method of how the man thought and worked as anything else you'll find. Rounding out the extras is a very good commentary by Michael Ventura.
For a filmmaker who could make you recoil in discomfort, John Cassavetes' films were the most life-affirming. Through all the noise, the ephemera, the pain, the booze, the drugs, the flings, the disappointments and the struggles, life for Cassavetes was well worth living and celebrating, and he never let much interfere with his passion for articulating these complicated, almost abstract feelings to a larger audience and daring that audience to experience more. To understand his movies is to also share in his raw enthusiasm for the lives of ordinary folks who, through their ordinariness, become extraordinary. He was a fearless artist whose influence remains incalculable 25 years after his death, and the long-awaited Criterion release of Love Streams is surely a cause to celebrate.